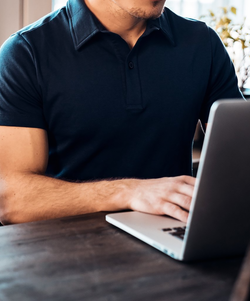 How does it work?
It's simple, pick your regular size and let the fabric do the magic. If you're usually between two sizes we recommend you pick the larger one.
Bespoke Fit
100% Organic Pima Cotton
Smooth Interlock Fabric -

220 GSM - 

40/1
Including two collar stays
No itchy neck tags
Made in Peru
Our production is tested and certified by leading industry standards such as GOTS, Fair Trade, EU and USDA to ensure sustainable and ethical production.
Sent with free express shipping powered by UPS & DHL.
WILD LIFE. PEOPLE. EARTH.
OUR MISSION
The fashion industry is dirty..
It's one of the most polluting industries in the world, second just after oil. We're shocked that almost all cotton farming still use deadly chemicals literally killing thousands of workers each year.
By skipping middlemen we can spend our savings on what really matters – superior cotton, good wages and sustainable farming, without raising the price.
100% ORGANIC PIMA COTTON
SUPREME COMFORT
Gossypium barbadense was given the name "Pima" cotton in honor of the Native American Pima people who first harvested the cotton.
The cotton fibers can be more than double the length of standard cottons, a fact that gives Pima cotton some distinct and desirable qualities. A combination of softness, strength and durability has earned Pima cotton its global status as a superior luxury cotton.
Combined with our 360 stretch fabric the Polo will adapt to your body to create a perfect fit. We guarantee you'll feel the difference.
INDEPENDENT CONTROLS
#1 Certificates
We teamed up with the leading parties to ensure we meet the toughest regulations in the industry, such as GOTS and EU.
You could say that one certificate is enough, or definitely two, but our production is tested and certified by four of the worlds leading controllers to ensure everything from our cotton farming to coloring the fabrics and final production are both sustainable and ethical.
@Organictailor
JOIN OUR MISSION
The Global Organic Textile Standard (GOTS)
Worldwide leading textile processing standard for organic fibres, including ecological and social criteria, backed up by independent certification of the entire textile supply chain.
World Fair Trade Organisation Certified
WFTO prescribes 10 Principles that Fair Trade Organisations must follow in their day-to-day work and carries out monitoring to ensure these principles are upheld.
EU CERTIFIED
Certified by the European Unions organic agriculture program in the Regulation EC 834/2007. We're also certified by The Department of Agriculture of the United States.
UN Sustainable Development Goals
The blueprint to achieve a better and more sustainable future for all. With the ambition to solve poverty, inequality, climate, environmental degradation, prosperity, and peace and justice.
WHITE COTTON
This project is managed by Ecotton, one of our partners. Ecotton oversees 413 hectares of certified land in the Chincha and Lambayeque valleys.
WILD COTTON
A social project started in 1994 when the Peruvian Government decided to promote alternative crops to replace coca leaf plantations in the rainforest.